---
Mission Trip to Peru
What an Experience to land in the amazing country of Peru, filled with jungle, desert, vibrant large cities and small, rooster-filled towns!   Our mission was to connect with pastors of churches who were celebrating new buildings-financially supported by CMRC, to see a new home built for a family whose daughter is in an education program supported by CMRC, and to help build new bathrooms for children in a church in the middle of a most dry, desolate area near Canete.  The look of sheer gratitude on the father's face for a new home was priceless.  The people are so touched by the generosity of CMRC.  The new showers and toilets built in an area where people have so little will be such a huge blessing to that community.  Thank you Doug Springer and CMRC Ministry for giving us the opportunity to minister with you!  God Bless!
— Brenda and Erwin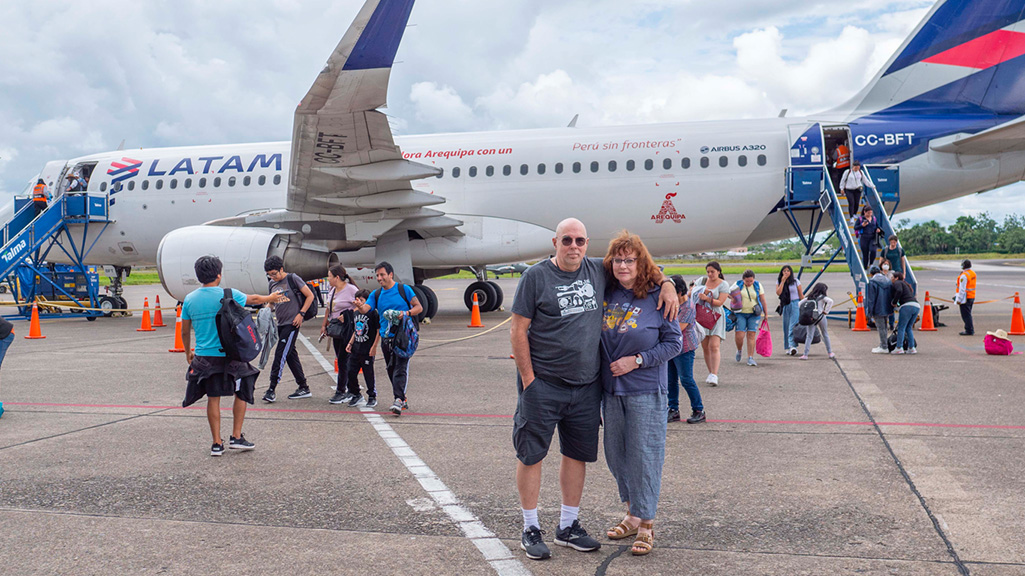 ---
Report on Mission Trip to PEru In January
A new year has begun, and it has been three years since we have taken a team to Peru to volunteer. This year was a small group of only four, which included my wife Marni, and Brenda and Erwin Wisborg from Hamilton Ontario, and myself.
We left Toronto on January 6th and returned on January 21st. After arriving in Lima, we went once again to Golden Tower Hotel, which gave us time to visit with our friends and plan for the activities we would be doing the second week.
In Lima, we went to church at Camino de Vida and enjoyed the enthusiastic worship time and visiting with our friends.  After church we were fortunate to spend time with our friend John over coffee and an early ice cream dessert. After dessert we went to Chaclacayo where we had spent many years helping at the CDV children's home. We ate lunch at our friend's gourmet restaurant, Kausaq, where we were treated to delicious Peruvian cuisine.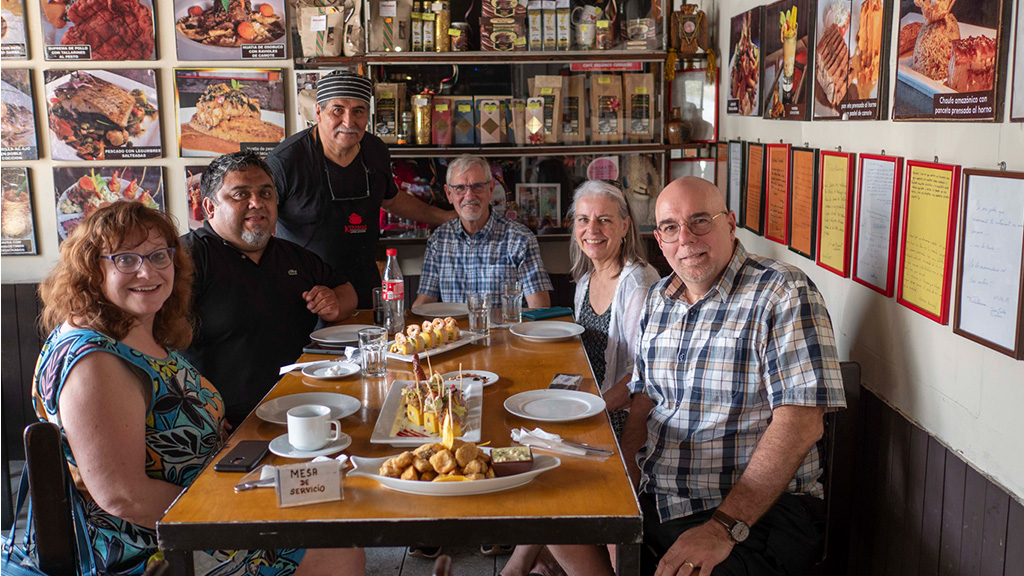 On Monday, we flew 1½ hours to Iquitos in the middle of the Amazon where we were met by our associate Karen and missionary Joel McGee who would host us on our 5-hour boat ride up the Amazon.  Tuesday morning we travelled up river to the small village of Santa Rita where we would stay for two nights while visiting with local pastors and dedicating a church.  The hotel was quite an experience for $6.00 per night. We had electricity from 6 pm to 11pm, cold showers and toilets in a separate building, mosquito netting supplied, and a rooster crowing from 2 am on, three feet from our heads.  Reminded me of camping but we never had a rooster at our campsite.  Our time was special in Atenas as we ate in the pastor's home before the dedication of the church for which a CMRC donor had supplied the funds.
After returning from our excursion up the river, we drove one hour from Nauta to Iquitos where Karen and the young women in our Education program live.  You may remember last fall we told you Sindy's family's floating home was falling apart.  It was exciting to be picked up in her father's boat and taken across the river to see their new home donated by CMRC.  Now Sindy can study without fearing she will fall through the floor.  When I asked Sindy's father to say a few words of thanks to the donors, he began to cry and left the room to compose himself.  Sindy's father is a fisherman / alligator hunter / water taxi driver.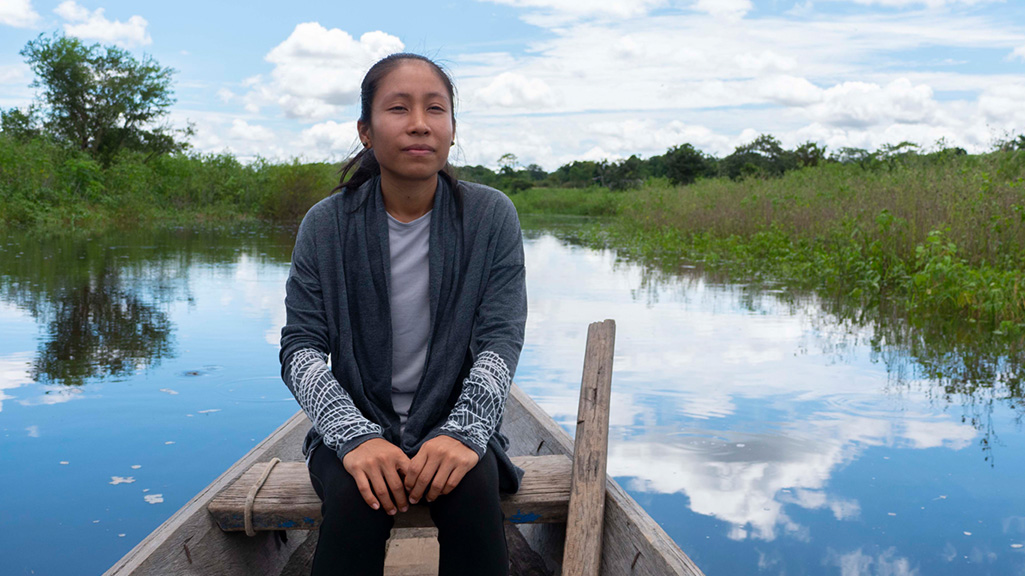 I met with a few of our contacts in Iquitos, and then we returned to Lima on Saturday the 14th. Peru is in the midst of political turmoil, and in certain areas there are violent protests. This was a concern for many of you. Fortunately, we were only delayed briefly by one protest. We thank you for your prayers.
Upon arriving back in Lima from the Amazon, we were picked up and driven three hours south to a city called Canete.  The church in Canete that we were there to help, had been built five years ago.  Their ministry is in a village of squatters and poor families.  It is in an area prone to earthquakes, and was originally built without strong support beams or posts.  CMRC supplied the finances to reinforce the posts and beams as well as build a washroom building with six toilets and two showers for community use.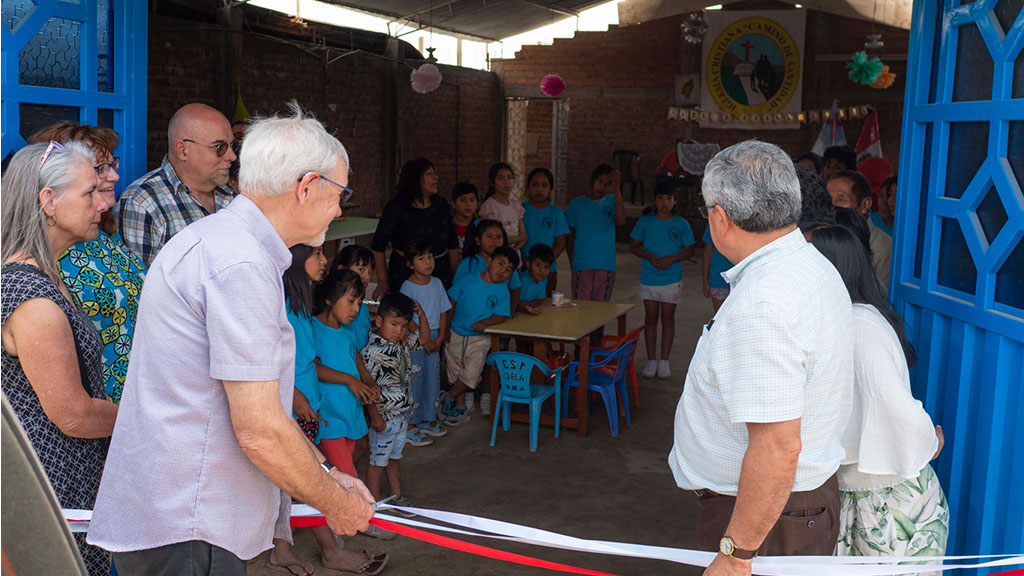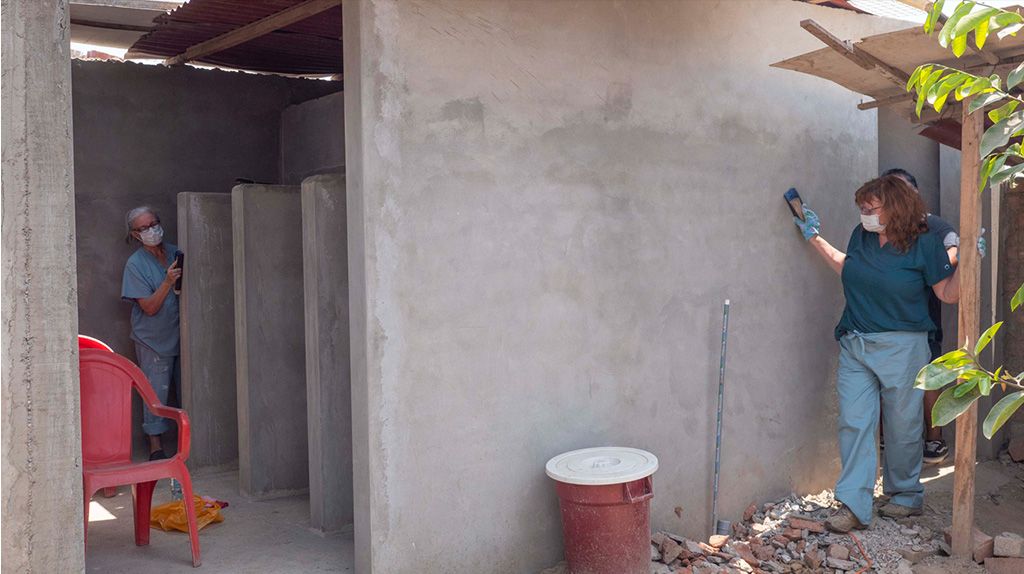 Our team of four, along with the pastor's family and a few others, installed toilets and showers and painted a primer coat on the new washroom building.  Our hosts, David Espinosa and Pastor Gumersindo Antone and his family, were wonderful. We became like family in the short week we were together.

Our drive back to Lima and the time spent before we flew home was most enjoyable, and the four of us shared many of the memories of our time with our Peruvian friends.

---
Prayer Requests
Pray for Karen our associate and the young women in our Education program in Iquitos. Living and studying in homes with no running water or flush toilets and only basic food is challenging at best but even more when you need to be alert and sharp for classes and study.

Pray for Michel from Cuba who is attempting to get his family out of the desperate situation in Cuba. Michel has left and is in Paraguay working on the process to get the rest of them out.

Pray for our Guatemala Associate Cesar and Carina as they are working on their Tourist Visas to Canada so they can travel with us to Israel in April. Cesar is a professor at the Guatemala Bible Seminary.

Pray for Maria Elena in Cuba as she continues to heal from having a tumor removed last summer.
---